Hotel Info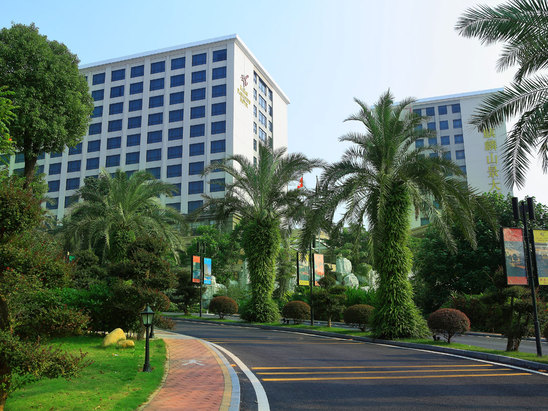 Venus Royal Hotel (Shenzhen International Convention and Exhibition Center)
is a high-end brand in Vienna. It is located in the western part of Shenzhen, with convenient transportation, sea, land and air connections. It is close to Shenzhen Airport Subway Line 11 Maanshan Station Exit B about 15 minutes walk; about 15 minutes to Fuyong Hong Kong Macau Ferry Terminal It is about 4 kilometers away from the Shajing Convention and Exhibition Center. It is the core area of Shenzhen Shajing Commercial District known as the Hometown of Food. The surrounding shopping plazas include Jingjing Baina of Shajing, Xinsha Tianhong of Jinsha and Fairy Tales of Jinsha, all of which are about 300 meters.
The nearby attractions of the hotel are: Shenzhen Fenghuangshan Forest Park, one of the eight major forest parks planned by Shenzhen. It is about 7 kilometers away from the hotel, and the maritime idyllic tourist area, about 3.8 kilometers away from the hotel. About 3.8 kilometers.
The hotel was formerly known as the Kirin Mountain View Hotel in Shenzhen. It is surrounded by mountains and rivers and has a beautiful environment. It covers an area of 16,000 square meters and a total construction area of more than 100,000 square meters. Hotel facilities are readily available with 402 sets of various warm rooms, fully equipped.
The hotel has a luxurious pillarless banquet hall that can accommodate 1,200 people at the same time, a multifunctional large LED screen, 7 conference rooms for various business meetings, and a garden-like free parking lot. Wudaoxiang Buffet Restaurant, Lingnanhui Seafood Restaurant, Zhongjihui Private Kitchen, etc. bring all kinds of food and wine. Fitness and leisure facilities such as swimming pools can meet guests' requirements for smart business, personal socializing, and leisure vacations, and have become the flagship landmarks in the area.