Hotel Info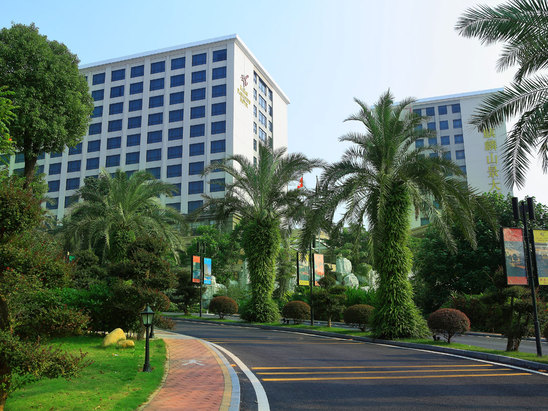 Venus Royal Hotel Shenzhen Shajing Qilin(Shenzhen International Convention and Exhibition Center)
is located in the west of Shenzhen City, with convenient transportation, sea, land and air connections, close to exit b of Ma'anshan station of Shenzhen Airport Metro Line 11, about 15 minutes' walk; It's about 15 minutes' drive from Fuyong Hong Kong Macao wharf and 4 kilometers from Shajing Exhibition Center. It's the core area of Shajing business district in Shenzhen, which is known as the 'hometown of delicious food'. Around the shopping malls, there are Shajing Jingji Baina, Shajing Xinsha Tianhong and Jinsha fairy tale, all about 300 meters.
The nearby scenic spots are Fenghuangshan Forest Park in Shenzhen, one of the eight major forest parks planned to be built in Shenzhen. It is about 7km away from the hotel and 3.8km away from the sea pastoral tourism area; New exhibition center in Asia, about 3.8 km away from the hotel.
It was formerly known as Shenzhen Qilin Mountain View Hotel. It is close to mountains and rivers and has a beautiful environment. It covers an area of 16000 square meters with a total construction area of more than 100000 square meters. The hotel has all kinds of facilities, more than 400 kinds of warm guest rooms with complete facilities.
It has a luxurious pillarless banquet hall that can accommodate 1200 people at the same time, a multi-functional LED screen, seven meeting rooms for various business meetings, and a garden style free parking lot. Wudaoxiang cafeteria, lingnanhui seafood restaurant, zhongjihui private restaurant bring all kinds of food and wine. Swimming pool and other fitness and leisure facilities can meet the requirements of intelligent business, personalized social, leisure and vacation, and have become the flagship landmark buildings in the region.
Breakfast price
: CNY68($9.3) / person
Breakfast type
: Buffet (Western, Chinese)